T
he task of cutting insulating materials is one of the most time and labor consuming tasks in duct manufacturing.
Cutting insulation by hand is the slowest

process in making duct;



The equipment for

waterjet cutting is very expensive

you have to recycle or purify the waste water, which further increases the cutting cost, and your insulation material gets fairly wet, complicating the assembly operation and the manufacturing process;



The plasma cutting of virtually any insulation produces very

toxic fumes

;



The router generates an enormous amount of dust particles, creating a

health hazard

, and in case of the fiberglass-based insulation, this hazard can be life-threatening.



The
VapoJet
process, designed and developed by
ESAB
engineers specifically for the HVAC industry, represents
the only ecologically clean and cost-effective method of cutting insulation materials
(or any other low density materials) at working speeds up to
750
ipm.
The
VapoJet
process is based on
using a jet stream of a

high-pressure water vapor

produced at room temperature by a specially designed jet attachment.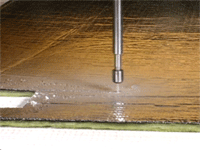 VapoJet
can be mounted on its own cutting table, or can be used on the same gantry with the plasma torch.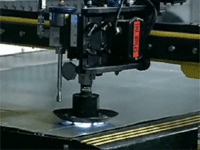 The
VapoJet
process is
safe, clean and simple,
and it offers all the advantages of waterjet cutting at a fraction of the cost. Our
PractiCAM
software fully supports the
VapoJet
liner cutting operations in every equipment configuration.